Morell & Area Development Corporation Supports "PEI Neighbour Week," September 20-27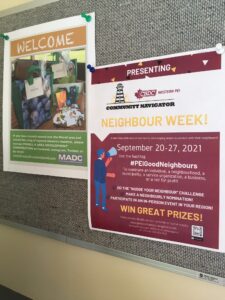 The Community Navigators of PEI have launched a program entitled Neighbour Week to recognize and celebrate both the everyday acts of caring shared by neighbours for one another, as well as the special acts of kindness and support that take place from time to time.
Neighbour Week will run from next Monday, September 20 – Sunday, September 27, 2021. We hope you will participate by taking a moment to:
A) welcome a new neighbour,
B) recognize a neighbour for their kindness, or
C) do something yourself for a neighbour (or group of neighbours) in your area.
PLEASE take a moment to capture the experience with a post on Facebook/Instagram at:
@PEICommunityNavigators
with the hashtag on your own page:
#PEIGoodNeighbours
MADC will be sharing a daily post with ideas about how to participate, on both its Facebook page: Morell & Area Development Corporation, as well as its Facebook group: AskMorellPEI, between now and the 27th of September in support of this effort.
Posters will be visible at a variety of locations in the MORELL Area.
MADC volunteers will also be delivering Welcome Gift Bags to six more households who have recently moved to Morell & Area from outside the region.
We wish you all our best in this effort and look forward to seeing your posts!
The Volunteers of MADC
Morell & Area Development Corporation