Morell Co-op Supports Rink Renovation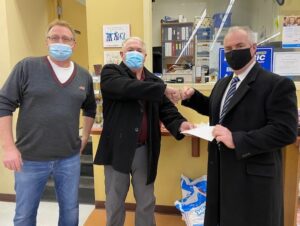 Gary Doyle, Chair of the Morell Co-op Board of Directors presents Danny Kelly, Chair of Northshore Communities' Initiative, a cheque for $25,000. To the left is Co-op Manager Greg Dunn.
The money will help NCI pay off the debt from Phase 2 of the renovation to the Morell & Area Community Rink and help prepare for the third and final phase of the renovation. The Co-op joins other community businesses/organization supporting this essential community project, including Wyman's ($10,000), Morell Credit Union ($50,000), and the Morell Lions Club ($100,000).